soooooo . . . you get addicted to the hormones your body releases by being around a said person, which in turns makes you addicted to them, thus why people feel "connected" at all to begin with.

hmmmmm . . . research time GO!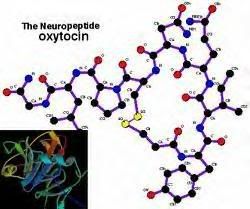 Oxytocin (Greek: "quick birth") is a mammalian hormone that also acts as a neurotransmitter in the brain. In women, it is released mainly after distention of the cervix and vagina during labor, and after stimulation of the nipples, facilitating birth and breastfeeding, respectively. Oxytocin is released during orgasm in both sexes. In the brain, oxytocin is involved in social recognition and bonding, and might be involved in the formation of trust between people.

Actions of oxytocin within the brain
Oxytocin secreted from the pituitary gland cannot re-enter the brain because of the blood-brain barrier. Instead, the behavioral effects of oxytocin are thought to reflect release from centrally-projecting oxytocin neurons, different from those that project to the pituitary gland. Oxytocin receptors are expressed by neurons in many parts of the brain and spinal cord, including the amygdala, ventromedial hypothalamus, septum and brainstem.

Sexual arousal. Oxytocin injected into the cerebrospinal fluid causes spontaneous erections in rats (Gimpl 2001), reflecting actions in the hypothalamus and spinal cord.

Bonding. In the Prairie Vole, oxytocin released into the brain of the female during sexual activity is important for forming a monogamous pair bond with her sexual partner. Vasopressin appears to have a similar effect in males [1]. In people, plasma concentrations of oxytocin have been reported to be higher amongst people who claim to be falling in love. Oxytocin has a role in social behaviors in many species, and so it seems likely that it has similar roles in humans. It has been suggested that deficiencies in oxytocin pathways in the brain might be a feature of autism.

Maternal behavior. Sheep and rat females given oxytocin antagonists after giving birth do not exhibit typical maternal behavior. By contrast, virgin sheep females show maternal behavior towards foreign lambs upon cerebrospinal fluid infusion of oxytocin, which they would not do otherwise. [2]
Various anti-stress functions. Oxytocin reduces blood pressure and cortisol levels, increasing tolerance to pain, and reducing anxiety. Oxytocin may play a role in encouraging "tend and befriend", as opposed to "fight or flight", behavior, in response to stress.

Increasing trust and reducing fear. In a risky investment game, experimental subjects given nasally administered oxytocin displayed "the highest level of trust" twice as often as the control group. Subjects who were told that they were interacting with a computer showed no such reaction, leading to the conclusion that oxytocin was not merely affecting risk-aversion (Kosfeld 2005). Nasally-administered oxytocin has also been reported to reduce fear, possibly by inhibiting the amygdala (which is thought to be responsible for fear responses). (Kirsch 2005)
According to some studies in animals, oxytocin inhibits the development of tolerance to various addictive drugs (opiates, cocaine, alcohol) and reduces withdrawal symptoms. (Kovacs 1998)

Certain learning and memory functions are impaired by centrally-administered oxytocin. (Gimpl 2001)
--------------------------------------------------------


while i realize that most of you probably already knew this, i did not, and therefore had to look into it. that's how i roll.